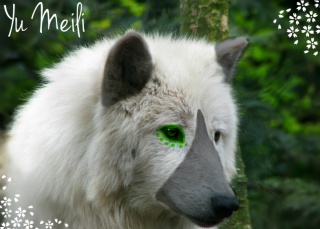 ::Basics 初步的::

Full Name::
Yu Meili
Chinese Characters::
玉 美麗
Meaning::
Yu means "jade/precious stone", Meili means "beautiful"
Aliases::
Mei, MeiMei, Li, LiLi
Age::
3 years 2 months
Date of Birth::
December 4th (Gregorian Calendar) 10th Lunar Month Day 16 (Lunar Calendar)
Gender::
Feminine
Sex::
Female
Breed::
Tibetan/Himalayan/Arctic
Position::
Drifter
Desired Rank::
Pursuant
::Personality 个性::
Positive Traits::
mask of confidence, capable, cultured, disciplined, healthy, intelligent, intuitive, responsible, resourceful
Neutral Traits::
sarcastic, political, frugal, determined
Negative Traits::
abrasive, blunt, morally ambiguous, opinionated, opaque in nature, occasionally vindictive, manipulative
Sexuality::
Heterosexual
Zodiacs::
Sagittarius and Dragon
Descriptive::
To put it all in one paragraph, Meili watches out for herself first and is selfish in this manner. She has yet to meet someone, besides potentially her siblings, that made her want to put her life before theirs. She is loyal to those who respect her for who she is and what she does; she is not one for a patriarchal society and is seen as a relatively progressive female back in her regional area. Her travels throughout the world have morphed her personality so that she can mold to fit the desires of the person she is speaking to. Her ability to detect body language has heightened as well. Unfortunately, she is still getting used to the idea of a
pack
because her family was more of a 'mafia boss' situation and less of a friendly arrangement.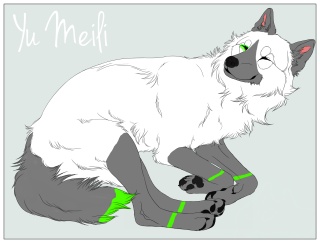 ::Appearance 外表::
Height::
28in/71.12cm
Weight::
63lbs/28.57kg
Length (nose to end of tail)::
64in/162.56cm
Fur Color::
White/Ivory
Fur Texture::
Water-resistant top coat, soft downy undercoat, thick during winter, sheds for summer
Eye Color::
Jade right eye, brown-gold left eye
Scars/Deformities::
Light pink scar on right side of underbelly, tiny pink scar on underside of muzzle (the most visible of her scars), burn marks beneath the jade fur bracelets on her legs (cultural significance)
Notable Markings::
Jade rimmed right eye, 7 dots beneath eye, jade "bracelet" on each leg, jade-tipped tail, grey muzzle, grey ears, gray "socks" on each leg, grey tail (during autumn and winter, the markings fade to a deep jade tone, if not fade away and return in the summer as she sheds her winter coat)
Markings Explanation::
Obviously her "jade" markings are abnormal, but it's a family trait. Mei's grandfather encountered radioactive waste from an abandoned nuclear plant in southern Siberia. His fur disintegrated and eventually he began to grow bright radioactive-green fur. His last name being Yu, meaning jade, saved him from humiliation. He claimed that this was the gods' doing, giving him the look of his last name to prove his worthiness. The entire Yu family has higher radiation levels in their body than the normal wolf, and this is most apparent around the jade-colored areas. The only reason Mei has the colors in those areas is because her parents exposed those areas to radiation specifically and the area burned (the reason why she has burn marks beneath the green areas) and the hair grey back in the mutated green. Eventually, Mei suspects the green will dissipate if it isn't exposed to more radiation. The grey spawned because her body reacted to the heat and darkened her fur to "protect" her skin beneath. Most of the grey from her body is gone, being that she went from a white wolf to all grey in one year and now the grey only exists on her legs, tail, and muzzle.
Build::
There is a reason she wants to be a pursuant, she is built light but strong. Her lithe body is suited for running long distance and her form of fighting is unique to her region of birth. Fluid is a way to describe her, and she enjoys swimming a lot. Water does not bother her as it was one of the first ways she was taught: fishing.
Pre-Radiation Mei::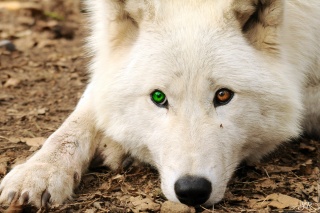 ::Relations 关系::
Mother::
玉花 Yu Huā (alive)
Father::
玉敏 Yu Mǐn  (alive)
Sisters::
智 (zhì), 雪 (xuě), 慧 (huì), 爱 (ài)
Brothers::
水 (shuǐ), 太 (tài), 泽东 (zédōng)  
Mate::
N/A
::Other 此外的::
Favorite Flower::
Jasmine
Favorite Season::
Winter
Favorite Color::
Jade
Voice Claim::
So Hyang (singing), Scarlet Johansson (somewhat rough, deeper than the typical female)
Native Languages::
Mandarin, Cantonese
(Semi)Fluency::
Korean, Russian, English, German
Conversational::
Arabic, Hindi, Japanese, Mongolian
Accent::
She either has a Russian accent or a Chinese accent. It depends on how angry she is....
Favorite Song::
Arirang (Korean Folk Song)
::History 历史::
Meili—or as she prefers to be referenced to by her friends, Mei—comes from former Northern China and a prominent wolf pack in the region. She is the third-born in her family, following Zhi and Shui. Of all her siblings, she is the most rebellious (which is saying something since she is not rebellious at all).
Meili was not interested in the usual lifestyle of a female, restricted to the medicinal arts and that of the "home-life". Her interests were in the fighting styles, the hunting, the leadership; these were all pieces of knowledge governed by the patriarchy that was established from the traditional times. This did not stop her, however, and she went on to learn the hunting techniques, particularly the fishing methods the Yu family had developed, and the more fluid martial art style of fighting that the region was known for.
Her father, Yu Min, was divided on the topic. On one hand, he was very open to new ideas and allowed his daughter to progress through the training alongside his sons, but on the other he was unwilling to allow his daughter to adventure outside the pack territory to the dangerous lands that lay beyond their borders.
Knowing this yet still ignorant to the outside world, Meili left one night and ran east to the Korean region. From there her adventure began as she traveled around the connected continents of Asia and Africa. Eventually she arrived in Europe, and this is where she is today.
Her favorite past-time is learning languages, engaging in other cultures different from her own, and singing/humming tunes from her childhood and travels (this is a personal talent that she doesn't share with others, ever).
Ask her about her travels and she won't stop talking.